PS5: Release date, launch games, and everything you need to know about the Sony PlayStation 5
We finally got to see the PS5, and hot damn it's beautiful. Shown right at the end of the Future of Gaming stream, we got to see the PS5 design, a better look at the new controller, and a lot of upcoming PS5 games. What we didn't get is an exact release date or price, but more on that later.
The most important news about our new favorite console? Sony is offering two different versions, a standard model with an Ultra HD Blu-ray disc drive, and a digital model without a disc drive.
"With PlayStation 5, we are making a significant leap to deliver a truly new generation of transformative play experiences that will redefine expectations for what games can be," said Jim Ryan, president, and CEO of SIE.
"Worlds will be richer and more beautiful, they'll captivate your senses in ways you didn't think possible, and you'll be able to experience them much more seamlessly, with lightning-fast loading. Today's showcase is just a glimpse of what's to come in the next generation, and we want to thank our community for taking this journey to PS5's launch with us."
We already knew the PS5 specs, which gave us an idea of what to expect in the PS5 vs Xbox Series X war for your paycheck, and now we've seen a huge bunch of games running on PS5 tech. Not to mention that incredibly sexy real-time PS5 Unreal Engine 5 tech demo.
The PS5 is going to be in direct competition with the Xbox Series X, which is coming also in Holiday 2020.
"With every new console, the processor and graphics get better, which is, of course, compelling, but we need to have unique elements too", explained Ryan in an interview with Business Insider. Apparently many of these "bigger differences" between PS5 and PS4 haven't yet been announced.
Also, in a recent Wired article, PS5 architect Mark Cerny (the man also responsible for leading work on the PlayStation 4) gave us a bumper of info about the upcoming PS5 specs, alongside hints about what we can expect from the PS5 price.
The TL;DR version is that it'll be backwards compatible with PS4; it's been in development for over four years; a number of studios are already working on PS5 games; it'll boast 8K graphics and support for ray tracing; and under the hood will be a custom made AMD CPU and GPU. All that, combined with the new information means there's actually quite a lot we do know now about the PS5, so here we go:Get the best Sony PlayStation 5 pre-order deals before anyone else!
As soon as the PlayStation 5 is available to pre-order,we'll email you with all of the best deals and bundle offers. It's possible the first wave of products will sell out quickly so get your pre-order in ahead of the queue!REMIND MESend me details about other relevant products from Gamesradar and other Future brands.Send me details about other relevant products from third parties.NO SPAM, WE PROMISE. YOU CAN UNSUBSCRIBE AT ANY TIME AND WE'LL NEVER SHARE YOUR DETAILS WITHOUT YOUR PERMISSION.
PS5 RELEASE DATE
When will the PS5 release date be?
Sony has now confirmed that the PS5 release date is set for Holiday 2020. "These updates may not be a huge surprise, but we wanted to confirm them for our PlayStation fans, as we started to reveal additional details about our vision for the next generation," explained SIEE President, Jim Ryan, on the PlayStation Blog. That's a good thing too because if Sony wants to compete with the Xbox Series X, it's had to look to release its next-gen console around the same time.
Thankfully, it doesn't look like we're facing a PS5 delay for now.
For a more specific idea of the PS5 release date, a new rumor has pegged the console's launch down for November 20 of 2020, simultaneously stating that it'll be selling for the day one price of $499 in the United States. For comparison, the PS4's initial cost was $399, which brings us nicely onto our next point…
How much will the PS5 cost?
After the big Wired article that officially confirmed the PS5, Wired's Peter Rubin took to Twitter to relay information that hadn't made it into the original article. That included slight hints towards the potential cost of the PS5. According to Rubin, PS5 architect Mark Cerny said that he "believe[s] that we will be able to release it at an SRP that will be appealing to gamers in light of its advanced feature set".
When pressed on whether that means it will cost more than the PS4's launch price, he wouldn't give any further details, simply saying "that's about all I can say about it".
What it translates to though, is that the price will be relevant to the technology that's under the hood, and because it will be more powerful than the PS4, you can probably bet it'll be more expensive too. Our prediction is that will circle the $500 / £450 price point, but only time will tell.
Interestingly, a new report has emerged that Sony is struggling to keep the PS5 retail price low. The news comes via Bloomberg sources who suggest that the scarcity of particular internal parts in the PS5 is driving the price up on the production line, and Sony may choose to pass the buck onto consumers. The sources say the current unit price of the PS5 is about $450, which some in the company worry may already seem too steep to some potential buyers.
In the GDC-style presentation from Sony's Mark Cerny, he said the company has chosen to go with an 825GB SSD internal hard drive to try and keep costs low for the next-gen console, stating that:
"It's tempting to add more, but flash certainly doesn't come cheap, and we have a responsibility to our gaming audience to be cost-effective when it comes to what we put in the console."
The PS5 logo is rather familiar
At CES 2020, Sony revealed the official PS5 logo, and as you can see above, it's not exactly much of a surprise. It's exactly the same as the PS3 and PS4 logos, but with a rather slick five at the end. 
PS5 specs and performance: What technology can we expect?
Sony has already confirmed that the PS5 will be running on an AMD CPU chip that's based on the third generation of AMD's Ryzen line. It'll be an eight-core, custom-made, beast based on the company's new 7nm Zen 2 microarchitecture. The CPU is a custom variant of AMD Radeon's Navi family, and will support ray tracing – an effect that is a staple of Hollywood, and one that's beginning to appear in high-end PC processors and the Nvidia RTX gaming line.
It's admittedly disconcerting to think a next-generation console could be running on three-year-old hardware by the time it comes out. Fortunately, in June of last year, a few industry sources speaking with Forbes contributor Jason Evangelho emerged under the guise of anonymity to clear up some of the erroneous reports surrounding what's really under the hood of the PS5. Their forecast? At least for its graphics, the PS5 is going to harness the power of the last-generation Zen CPU architecture in conjunction with AMD's freshly revealed Navi graphics architecture. 
A big part of that GPU setup will be support for 8K resolutions and ray tracing in PS5 games. The latter is a technology that greatly improves the visual fidelity in games, as it mimics the way light moves and bounces from object to object, particularly reflective surfaces, and refraction through water, other liquids and glass. Given the proper optimizations, games could exhibit more realistic lighting and shadows as a result. In that same Wired interview, Cerny went on to say ray tracing isn't just about visuals, as it can yield audio enhancements for players and developers alike.
"If you wanted to run tests to see if the player can hear certain audio sources or if the enemies can hear the players' footsteps, ray tracing is useful for that," he says. "It's all the same thing as taking a ray through the environment."
It turns out that Sony is also adding a custom unit for 3D audio in the PS5 too, taking the attention to audio and sound improvements to the next level for its upcoming console. "As a gamer," said Cerny, "it's been a little bit of a frustration that audio did not change too much between PlayStation 3 and PlayStation 4. With the next console the dream is to show how dramatically different the audio experience can be when we apply significant amounts of hardware horsepower to it."
For gamers though, at least from my perspective, one of the biggest new improvements for the PS5 specs will be a huge decrease in loading times. At a corporate strategy event earlier this year, Sony's first PS5 gameplay reveal demonstrated footage that compared Spider-Man PS4 running on both the current-gen system and the PS5. The experience was recorded by tech journalist Takashi Mochizuki, and it clearly showed that Marvel's Spider-Man takes 8.10 seconds to load, whereas on the PS5 that load time is shortened to just 0.8 seconds. No, that's not a typo. Take a look below:Takashi Mochizuki@6d6f636869
Sony's official video comparing performance of PS4 Pro vs next-gen PlayStation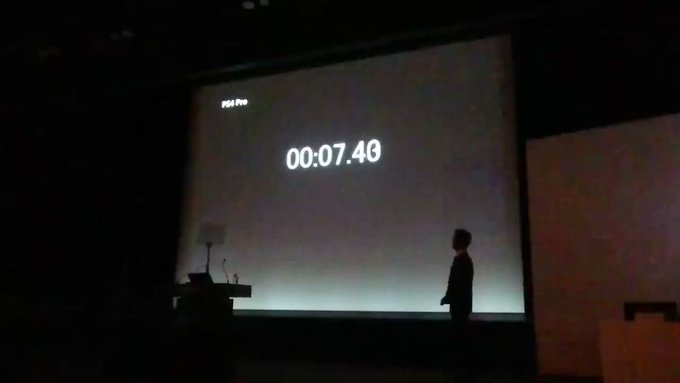 23.4KTwitter Ads info and privacy9,434 people are talking about this
Thanks to the fact the PS5 is switching from disc-based hard drives to SSDs, Sony is also changing it's approach to how we store games on the next-gen console. You'll be able to configure exactly what parts of a game you want to store on your machine, "allowing [a] finer-grained access to the data". That means you'll be able to install just the multiplayer, or just the single-player, or delete one or the other once you're done with it.
Here's the full list of specs courtesy of Digital Foundry:
CPU: 8x Zen 2 Cores at 3.5GHz (variable frequency)
GPU: 10.28TFLOPs, 36 CUs at 2.23GHz (variable frequency)
GPU Architecture: Custom RDNA 2
Memory/Interface: 16GB GDDR6 / 256=bit
Memory Bandwidth: 448GB/s
Internal Storage: Custom 825GB SSD
IO Throughput: 5.5GB/s (Raw), Typical 8-9GB/s (compressed)
Expandable Storage: NVMe SSD Slot
External Storage: USB HDD Support
Optical Drive: 4K UHD Blu-Ray Drive
What will the PS5 look like?
The PS5 design is a bold step away from the traditional black box, with both the digital-only and disc drive versions boasting a white and black color scheme and serious curves. Think Wall-E's Eve on her best day.
Meanwhile, yet another leaked patent reveals that Sony is developing a mysterious cartridge product that may or may not be compatible for the PS5. Current bets have it down as an external SSD that can be slotted into the console for easy memory management of your PS5 games, but – again – it's entirely possible this has nothing to do with the PS5 at all, so take its design and appearance with a pinch of salt. 
What is the PS5 controller like?
The PS5 controller, AKA the DualSense, is the successor to the DualShock line. Sony abruptly revealed the controller in April after months of rumors and patents hinting at its functionality, and the DualSense lines up with a lot of what we've heard.
While the DualSense is distinct from the DualShock, its design follows many of the same principles. It's altogether rounder, with a sleek white-on-black aesthetic rather than the usual jet-black default, but the input layout is roughly the same. The light bar on the back of the DualShock 4 is now split between the sides of the central touchpad, and there's a new Create button in place of the Share button, but most everything else is standard for a PlayStation controller.
The biggest changes and advancements are found on the inside of the DualSense. The high points are:
Haptic feedback: the DualSense delivers "a variety of powerful sensations that you'll feel when you play, such as the slow grittiness of driving a car through mud." The DualShock 4 had rumble functionality, but the DualSense goes much further with more subtle and varied types of feedback.
Adaptive triggers: the L2 and R2 buttons on the DualSense can match tension of in-game actions. Drawing the string on a bow was the example Sony gave, but based on previous accounts, the same can be said of firing a heavy machine gun and the like. Sony also says that the angle of the triggers, relative to the whole controller, has been tweaked slightly
Create button: the Share button has been replaced, but the new Create button serves a similar purpose. Sony says that this button will create "new ways for players to create epic gameplay content to share with the world, or just to enjoy for themselves."
Built-in microphone: you read that right – the DualSense has a microphone built right into it, which ought to make hopping into a chat with friends quick and seamless.
PS5 accessories
Along with showing off the PS5 design during the Future of Gaming stream, Sony also dropped some details about the accessories that will complement the new system.
Pulse 3D wireless headset – offering 3D audio support and dual noise-cancelling microphones
HD camera featuring dual 1080p lenses for gamers to broadcast themselves along with their epic gameplay moments
Media remote with built-in microphone to navigate movies and streaming services with ease
DualSense charging station for convenient charging of two DualSense Wireless Controllers.
What will the PS5 UI be like?
Sony confirmed to Wired that the PS5 UI is getting "completely revamped" from what we know and love of the PS4's version. The idea is to give you instant access to what single-player missions you could do, or what multiplayer matches you could join without even having to boot up the game.
"Even though it will be fairly fast to boot games, we don't want the player to have to boot the game, see what's up, boot the game, see what's up", says Cerny. "Multiplayer game servers will provide the console with the set of joinable activities in real time. Single-player games will provide information like what missions you could do and what rewards you might receive for completing them—and all of those choices will be visible in the UI. As a player you just jump right into whatever you like."
Additionally, another leak from 2019 reveals that Sony apparently wants to make the PS5 more accessible for stream set-ups, with the console including an in-built camera that can capture 4K footage with the click of a button, organically reacting to the lighting of your room to make sure the picture is always top quality. Perhaps the hardware's new and improved user interface could also reflect this pivot, with more buttons dedicated to sharing your gameplay with the wider world. 
What will the PS5 games line-up be like?
The PS5 launch games library is starting to look pretty impressive, thanks to the reveals during the recent Future of Gaming stream. Spider-Man: Miles Morales, Horizon Zero Dawn 2, Deathloop and no doubt more on the way as more big publisher show off their upcoming wares this summer.
But as for the rest of the PS5 games, we'll have to wait and see. Techland has confirmed that Dying Light 2 will also launch on PS5 and Xbox Series X, and EA has said it is working on next-gen titles right now for launch in 2020. So prepare yourself for an influx.
For more, check out 11 tech demos to make you excited for next-gen, or watch below for our latest episode of Dialogue Options. 
Source: https://www.gamesradar.com/